At Christmas the government dropped 1,000 migrants at a bus shelter. They did it on purpose.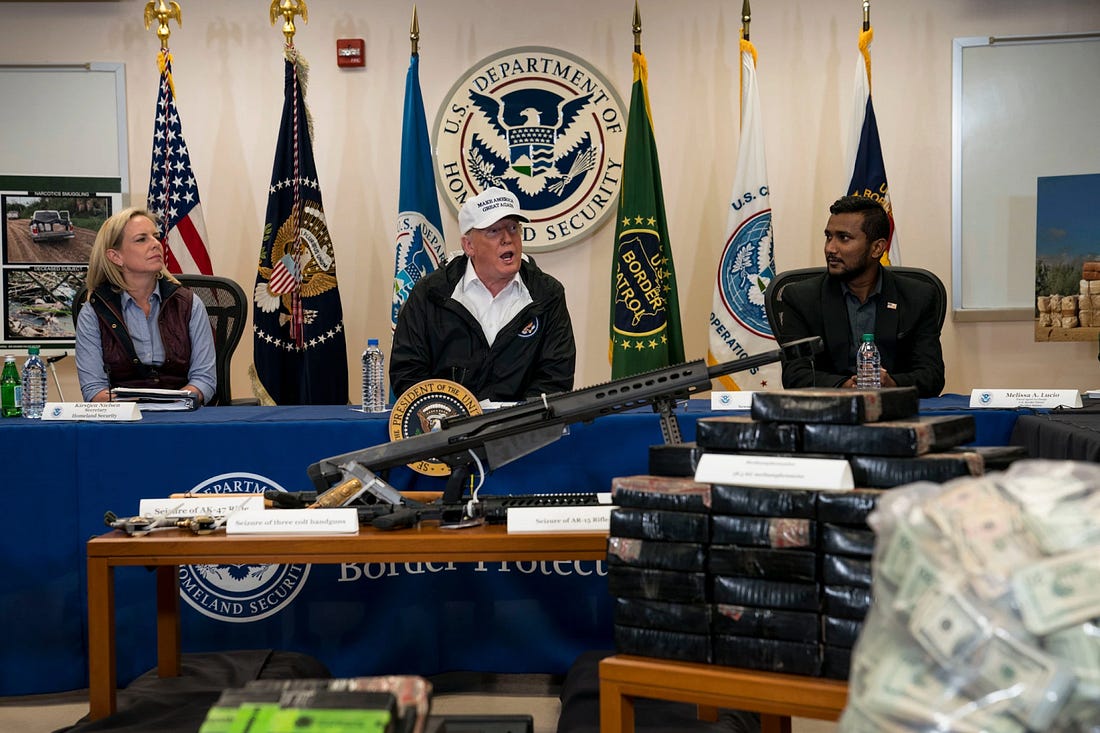 You might remember, a few weeks back before they started going on TV to lie about terrorists being arrested at the border and all of a sudden saying it was time for an Alamo-like last stand on the Wall, before The News took over our lives more than it already has for the last two years and Trump bullied his way into getting eight minutes of prime time TV time to tell us things he's already said over and over again, before he started shouting those same things in the Oval Office while adult men and women with some of the most important jobs in the world snickered as he mocked a reporter for asking why he shut down the government, before he yelled equally petulant defenses of his shutdown on the White House lawn while a helicopter waited to take him places so he could Do Things, and before he sat at a table in Texas behind a big gun and piles of cash and drugs found at the border in an attempt to prove his point — before all of that, you might remember a three-day period at Christmas when the government suddenly and inexplicably dropped off more than 1,000 migrants at a bus station in El Paso.
They did that on purpose, I can report to you now. They did that to scare people and convince them that the crisis at the border they say exists actually does (it doesn't). They did that because they can and because they don't give a shit about the consequences, because none of what they do is actually done with human rights in mind.
For the past week I was in El Paso trying to figure out why those people — the people who work for ICE who dropped the migrants off for no good reason — did what they did. Since the government is shut down the people who answer questions on behalf of ICE won't respond to an email I can't get an answer to that question. But even if they were at their desks tomorrow morning they would never admit to following orders from Washington D.C. — from Trump, we can assume — that resulted in them dumping more than 1,000 migrants at a bus station in the hope that someone would take a picture of it and that picture would look bad to some people, that it would look like a crisis.
They would never admit to that because it would prove there is no crisis but the one they created. But that's the logistical reason they won't admit that they purposely manufactured a crisis. The fundamental reason they won't admit that or even answer questions about it is that they are cowards.
***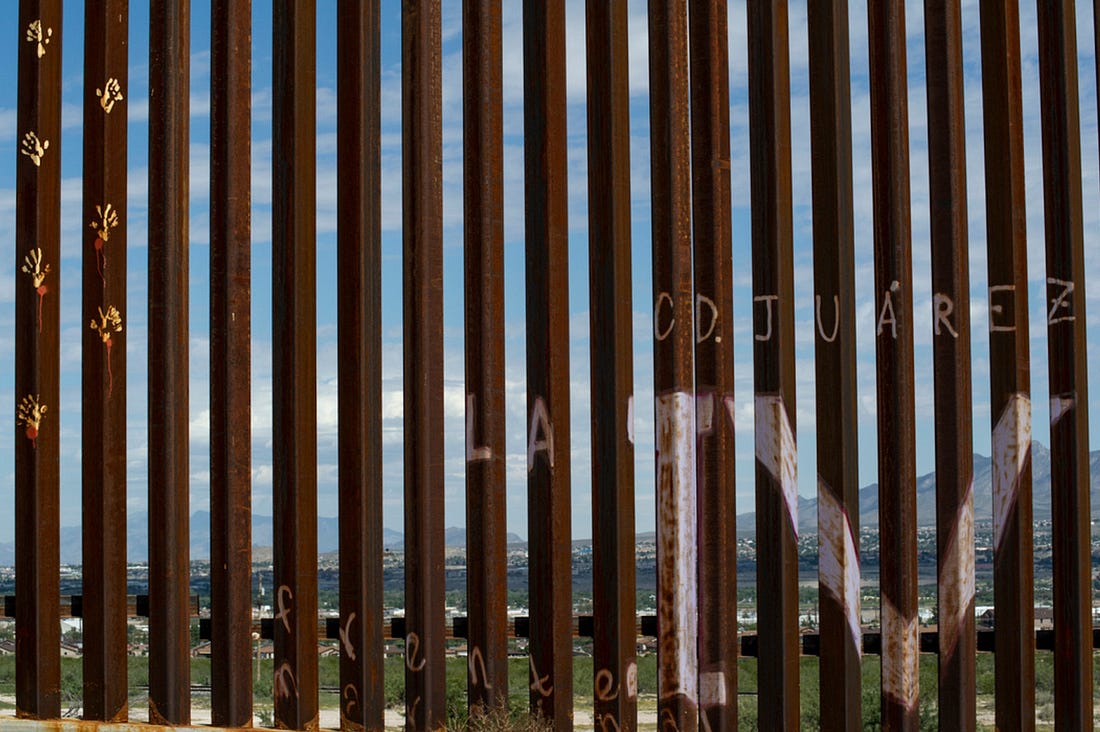 It's cold and raining in Juarez when I put my friend into a taxi late Wednesday night. I am full of Tecate and chucho. He has had his fill of Jack Daniels on the rocks. I tell him I'll see him next month when I'm back and we can resume our ongoing conversation of whether Mexico's president, Andrés Manuel López Obrador — AMLO — is making Mexico more like America or whether Trump is making America more like Mexico. You can have this conversation all day. On the bridge back to El Paso, there are four orange cones marking the invisible line between Mexico and the United States.
"Papers or passport?" the border guard asks.
I show him my Illinois drivers license that says I live in an apartment that I haven't lived in for four years in a city that I haven't lived in for two years. I left my passport back in Dallas, the one thing I forgot this trip.
"OK, go ahead."
Past him is the next obstacle, an airport-style checkpoint in a building that is completely empty except for the two guards standing behind computers they always make sure to tell you to stand the fuck behind.
"What were you doing in Mexico?"
"I'm a journalist."
"And where do you live?"
"Dallas, now."
"And what's in the bag?"
"My computer. A notebook."
"OK, have a good night."
No one is manning the X-ray machine that you're supposed to put your bag through so I walk past it and into El Paso, where the only thing waiting for me are empty streets and an empty hotel room and things I cannot stop thinking about.
***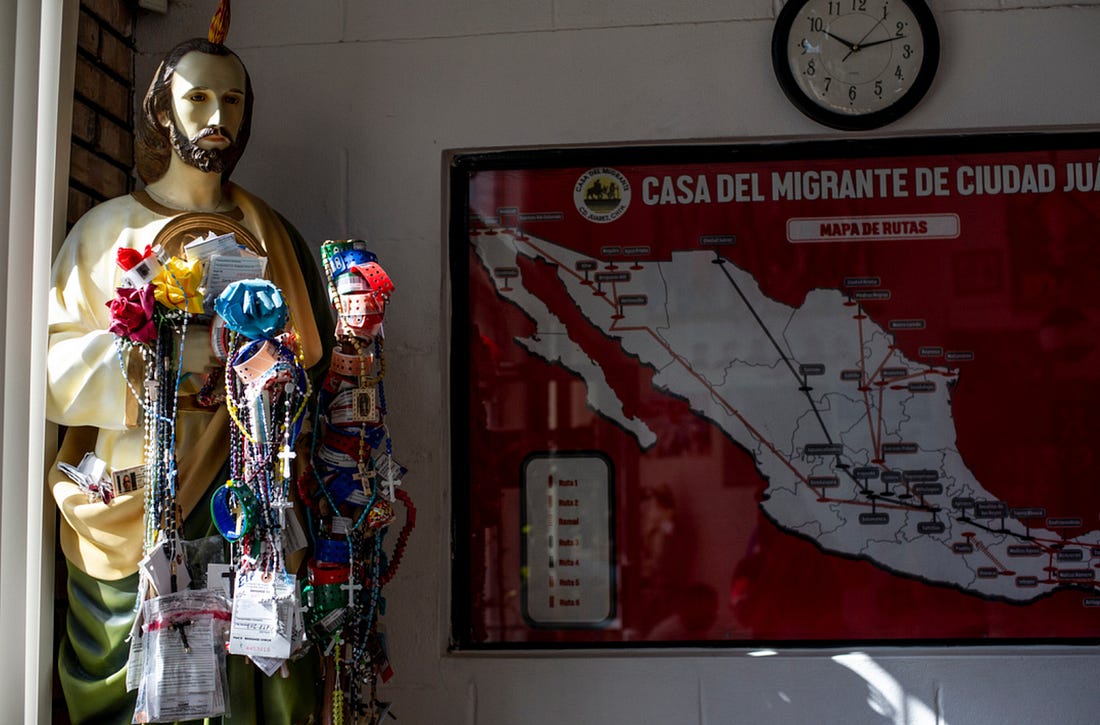 These empty streets are where the migrants would have ended up if it weren't for the people at Annunciation House. Since 2014 the government has called Annunciation House whenever it has migrants that they're going to release. Then Annunciation House finds a place in a church or someone's home or another of their shelters for the migrants to stay. That's how it's always worked. Until October 26.
That day, ICE dropped a couple hundred migrants at the bus station without telling anyone ahead of time. This was before Trump and a bunch of Republicans were trying to scare people into believing we need the Wall with what Aaron Rupar calls "gore porn" about human trafficking and cartels putting tape over womens' mouths, which is something that Trump keeps weirdly bringing up. Back in late October Trump and his Republican sycophants were busy trying to scare the hell out of people about a couple caravans of migrants who were 1,000 miles away and practically in another fucking hemisphere.
They made up lies about middle-easterners (bad, obviously) and criminals being in the caravan. Fortunate son Matt Gaetz floated a rumor that George Soros was funding the caravan (super bad, it goes without saying). They sent troops to the border who mainly spent most of their time building the camps they slept in before they took down those camps. The troops put up some barbed wire that Trump said was shiny and beautiful. Their field trip to the border probably cost us millions or tens of millions of dollars. By the time the caravans got here they were mostly broken up and ended up in Tijuana, another 1,000 miles from the poor grunts in the Rio Grande Valley sitting around twiddling their thumbs.
They did all that because there was an election coming and Trump figured it'd be a good idea to scare people so they'd vote for Republicans, who he doesn't really care about but if they won it would look like he won in a way. So they figured they'd drop a bunch of migrants off at the bus station in El Paso on October 26, a couple weeks before that election. The migrants would be wearing the same clothes they made the journey from Guatemala, El Salvador and Honduras in. They'd look a little disheveled, probably, and definitely brown.
They'd look different from people like Trump, and people who look like Trump and vote for him tend to really not like people who don't look like Trump, and themselves.
"They 100 percent did that on purpose to try to manufacture a crisis," Iliana Holguin, an El Paso immigration attorney told me, laughing that I'd even have to ask a question with such an obvious answer when I know what I know and talk to people like her all the time.
"This is all just a show for them. It's all to try to scare people and demean migrants."
They did it again on December 23, 25 and 25, dropping off more than 1,000 migrants in those three days. Why late December? Because it was right before Trump said he'd shut down the government if he didn't get his racist Ozymandias. That was a good time to manufacture a crisis because a crisis is what Trump and other lying politicians are telling Americans is happening at the border. And only a wall can fix that crisis, they say.
"They did that on purpose," another El Paso immigration attorney, Carlos Spector, says. "They did that to make it look there is a crisis here when there isn't."
***
On Carlos' desk are two statues. One is of Lady Justice with the blindfold over her eyes. She's supposed to be blind and it's not supposed to matter who you are, what you do, what color you are or how much money you have — she's supposed to treat you the same (she doesn't). The other statue is of Benito Juarez, the poor, indigenous guy from Oaxaca who stood up for other poor, indigenous people from Oaxaca and elsewhere in Mexico and became president. When the French invaded Mexico, Benito had to leave Mexico City and run the country from a town called Paso del Norte. In that town the building he ran Mexico from is abandoned and crumbling. That town is called Juarez now.