They are open with it: an armed Trump supporter brings his gun to a migrant shelter, is released
It's not illegal for a white supremacist to brandish a gun in El Paso outside a place where migrants are welcome.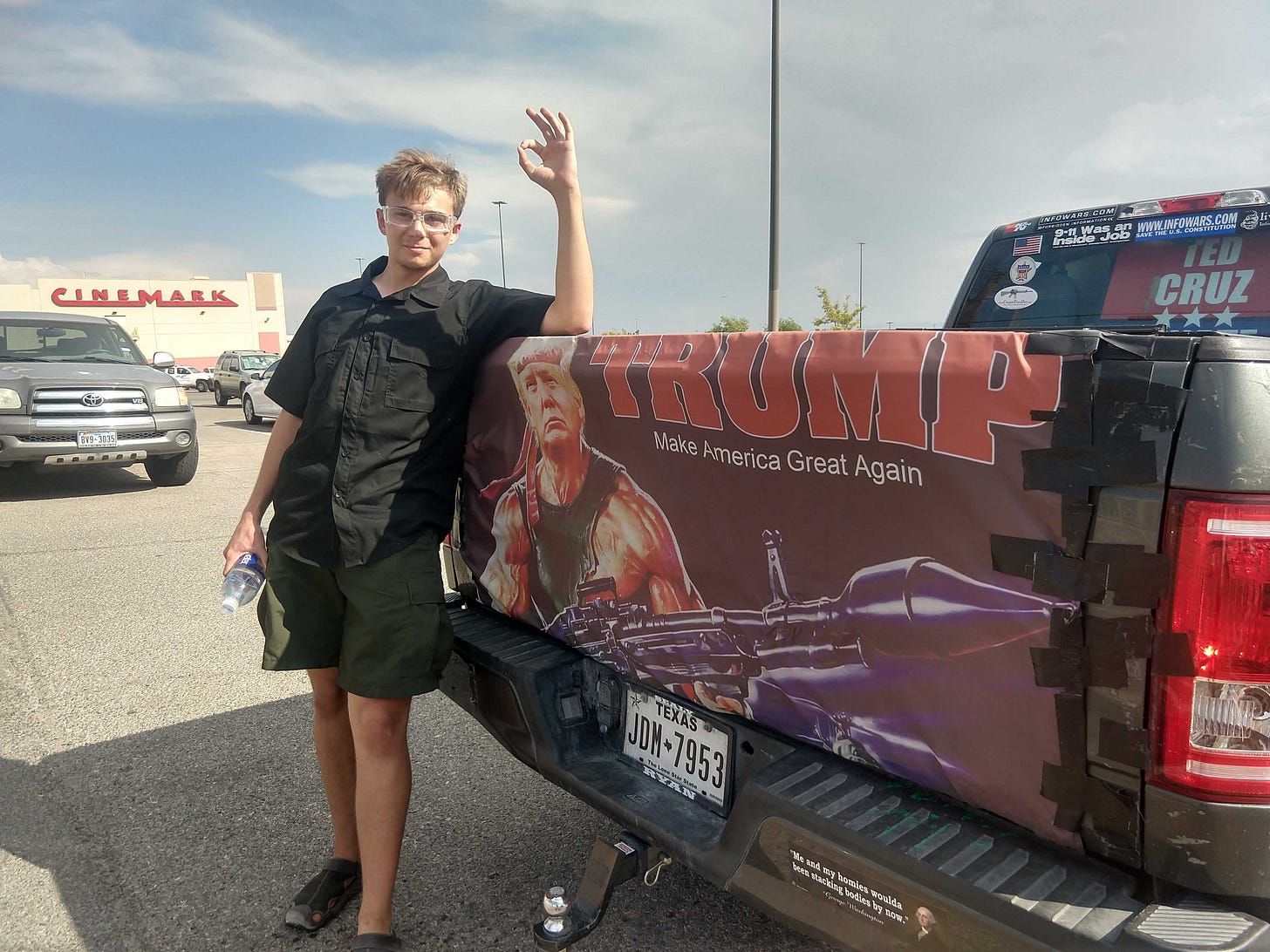 In El Paso yesterday, Thomas Bartram told my friend Rob Crilly, a reporter for the Washington Examiner, that he was an open-carry advocate but didn't plan to brandish his gun in that devastated city because it was a "funeral, so it didn't seem like the right thing to do."
Less than 24 hours later he was walking around outside an El Paso migrant community center with a gun and a knife. Police detained him at gunpoint, found several clips of ammunition and a bag of white powder on him, and briefly detained him before letting him go.
Bartram is a young, white man who has been seen flashing a white power hand sign in past social media posts. He is also seen in a wire photo in Dallas carrying an assault rifle at a pro-second amendment event that coincided with last year's National Rifle Association convention here. He is seen in a video from April that was featured on his beloved InfoWars in which he and two others unfurled banners over an interstate in Houston, where he lives. "It's OK 2 B white," one banner reads. "Trump 2020," reads another.
Texas' open carry law means that police were likely legally handcuffed from booking Bartram on any charges — after all, it's not illegal in this state to walk around outside a migrant community center while carrying a gun. And while Texas doesn't have a red-flag law, if it did Bartram should qualify.
He should have his guns taken from him right now by police in Houston before he actually goes through with killing someone. He is clearly a far-right, white supremacist who believes this country is being invaded by brown people — the very same belief that prompted Patrick Wood Crusius to drive nine hours from Allen, near Dallas, to carry out his atrocities in El Paso.
Bartram himself drove 10 hours to El Paso from Houston to make his statement of support for President Trump, which would have been known by anyone and everyone who came across his truck: the vehicle is adorned with a depiction of Trump as Rambo, holding a rocket launcher, and bumper stickers backing conspiracy theories fueled by InfoWars, as well as the website itself.
Here he is in El Paso sporting a white power hand gesture in a photo taken by Crilly.
And here he is in a pair of screenshots from the video in Houston, where he and his fellow members of the "InfoWars Army" unfurled their banners.
Bartram is a danger to society as well as black and brown people everywhere. His actions in the last 24 hours make clear that he should not have access to firearms. But in this country, the second amendment continues to trump the safety of all Americans.