They are stacking up at the border and held like animals in a pen
Hundreds of migrants are being kept under a bridge in El Paso as authorities scramble to process them.
They look sad and tired, peering through the chain link fence into the camera lenses that for the last two days have been snapping away. They are maybe a few hundred migrants, being held in a caged area underneath the Paso Del Norte bridge.
Most of them are Central American families fleeing failing states inundated with government corruption, violent crime and poverty the likes of which most American will never understand.
For the past month, authorities in El Paso have been processing about 700 of them a day, Customs and Border Protection says. Last week, the situation got so bad that CBP closed some inland checkpoints so they could send agents to the border to process asylum claims.
The migrants are crossing the Rio Grande — which is more like a stream than a river this time of year — entering U.S. territory and waiting near the fence for Border Patrol to arrest them. After that, they're taken for processing, handed over to ICE, given a court date and released. The families aren't really processed at all. Instead, they're simply given a court date and sent on their way, often into the waiting hands of Annunciation House in El Paso, which is beyond capacity, says Justin Hamel, a photographer who lives in the city.
He's been documenting the surge, which hasn't gotten much attention lately as the release of the Mueller report has sucked up all the air in the room. He's also spent some time with the United Constitutional Patriots, a militia (although they abhor that phrase, Hamel says) that has been patrolling an area just west of El Paso, where Sunland Park, New Mexico and the village of Anapra outside Juarez are separated only by Mount Cristo Rey and the desert and hills surrounding it.
I caught up with him Tuesday afternoon. Here's a rough transcript of our conversation.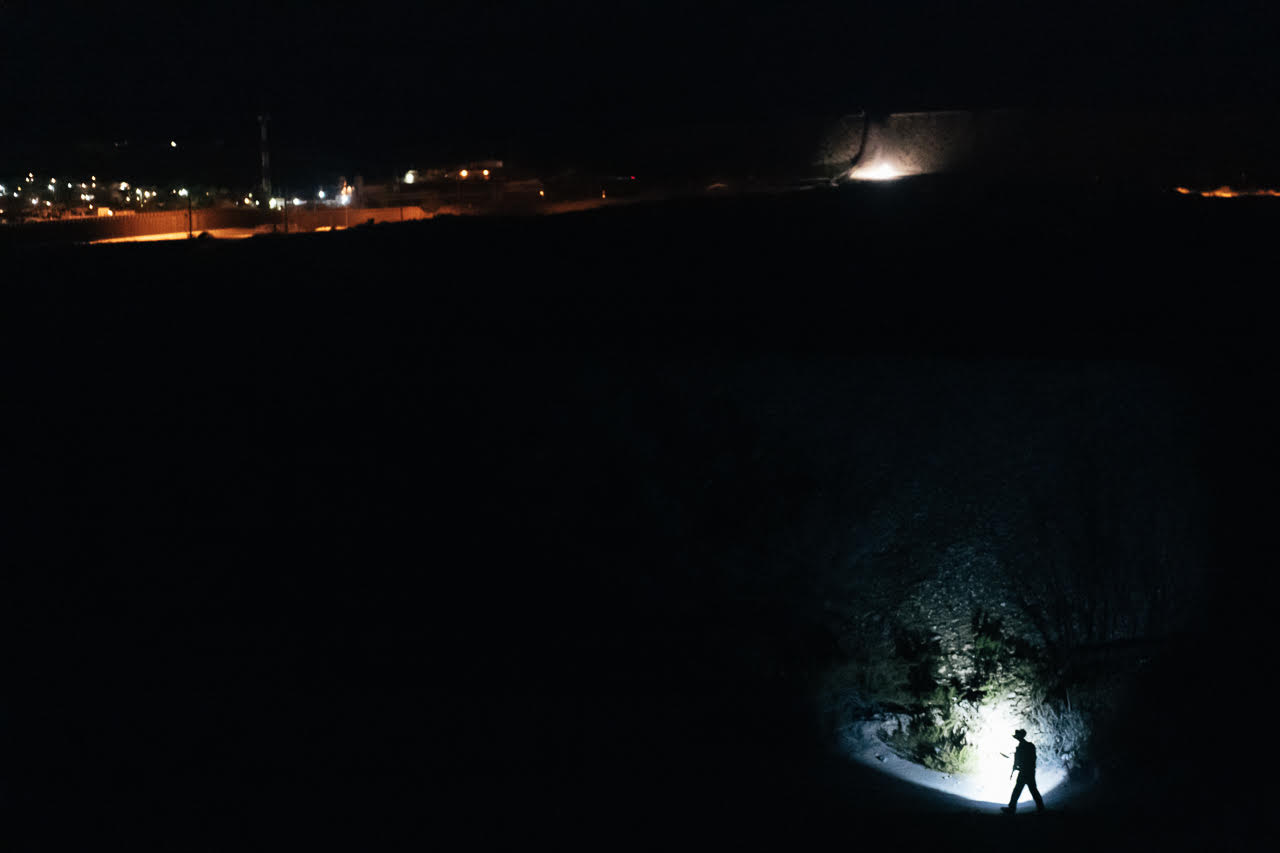 ***
JG: Tell me what's been going on there? I saw the picture you posted last night on Instagram where it looked sort of like people were climbing the wall. Is that in the area by the river where people are turning themselves in?
JH: No it's actually four miles south of that, south of the X. And they're not climbing the wall, they're just sitting on this levee on the other side of with their hands on the fence. I haven't figured out if there's a specific place that people are going to to cross, but it seems to be a consistent stream across the river all throughout downtown El Paso, from groups of 5 or 6 to a few hundred at a time. There's a CBP overflow tent under Paso Del Norte to keep people out of the elements while they process their claims.
There's not enough agents to process all these people. There's just not enough anything right now to handle the influx of people. All the systems are sort of overwhelmed right now. If they're a family they're not even holding them in detention. They're just giving them a court date and letting them go. Last week Greyhound changed their policy so ICE can't drop people off without a [bus] ticket, so ICE hasn't brought any of the people to the station. There are 20 or so shelters in El Paso from hotels to a lot of churches that are taking people.
JG: So I assume Annunciation House is completely slammed?
JH: Yeah, they're taking in 700 people a day. A-House is overwhelmed — they're looking to buy a bigger building or lease one because they've spent so much money on hotel rentals that that's not sustainable.
JG: I also saw that it looks like you've been talking to some border agents. What do they think about all this?
JH: They're pretty overwhelmed but the ones I talked to, they're not scared or worried about the types of people turning themselves in and waiting at the fence. What they are concerned about is a large group of 100 or 200 people walking across and tying up resources while a cartel tries to sneak people across a couple miles away. I read last week that the Border Patrol's Joe Romero said that was their major concern. It takes up so many resources to process migrants at the fence, he was saying.
JG: With that many migrants — I know you can probably tell the difference down by Paso Del Norte — but what does downtown El Paso look like? Are there just a bunch of migrants wandering around?
JH: No, it's really just business as usual. The only time you actually see it is if you're driving along the border highway. No matter what time day or night there will be at least three or four or five people there by the fence. They're just sitting there waiting — they seem happy. No one's attempting to go over the fence, as far as I can tell.
JG: Tell me about these militia guys. When did they get there?
JH: They arrived right before the Trump rally, when they held an event called Build the Wall where there were photos of them with their arms stretched out where the wall ends. Their goal is to stay until the wall in El Paso is finished, whatever that means. This is kind of helping play into the narrative that the wall needs to be built even though most people are crossing in places where there's already a wall and turning themselves in.
Note: Hamel says the group consists of less than 10 men, most or all of whom claim to be veterans, some of them saying they were in the special forces. They are armed with pistols and occasionally carry assault rifles and have a camp set up on what might be city land near Mount Cristo Rey. They claim that, when they find migrants crossing, members of the group shine flashlights and tell the migrants to sit down. The group then calls Border Patrol and tells them they've apprehended some migrants.
JG: First of all I'm not even sure if that's legal. These guys aren't licensed by the State of Texas to be peace officers, so I don't think they have any legal right to tell anyone to do anything.
JH: For the people coming across, these guys are armed and in uniform so they don't know that they're not actually officers.
JG: How did you come across them?
JH: I saw a story in a local publication back in February I think. Then one day I just drove out to this area where I thought they were — they really weren't hard to find. I walked up to them and started having a conversation with them for about an hour and took some photos.
JG: Who are these guys? And what do they do for a living that they can just hang out and play army man in the desert for a few months?
JH: They all say they're vets, that they're special forces, which of course I have no way of confirming. They all go by code names and don't give out any identifying information. One person from Minnesota, a handful are from the El Paso area and a couple are from New Mexico.
When I met them they asked me for my phone number and social media stuff and did a quick scan of my social. They saw that I'd liked Beto's Facebook page and I told them, Hey, I live in El Paso, I could have liked that just because I want to know what he's up to.
JG: Are they actually catching anyone?
JH: They'll say a claim like, We walked up to these 20 illegals and told them to sit and wait for Border Patrol, and next sentence they'll go on some Hillary, Muslim, crazy conspiracy thing. [Laughs] It's really hard to parse what may be true with all of the insane rhetoric they espouse.
JG: I gotta hand it to you, man. It's my job to talk to people that I totally disagree with but I don't think I'd be able to make it more than a few minutes before getting into an argument with these guys. Also, clearly Border Patrol isn't going to do anything about it — and I doubt some city or county politician wants or cares enough to make a statement by kicking them off that land — but Jesus Christ what happens when one of these guys pops off and shoots a migrant?
That worries me, honestly. When I'm out there with them …. You know, energy just gets amped up, we all run in and get in the bed of a truck and take off. That's my biggest concern.
P.S. All the photos on this post are courtesy Justin Hamel. Hamel is a photographer who moved to El Paso in September after roaming the country for another project. He is preparing to open Frontera Studio in El Paso by April. You can view some of Frontera's work here, and more of Hamel's work here.